My very first sourdough bread
While I had been making yeast bread on a regular basis the last year and a half, my sourdough saga began with Covid shortages of traditional yeast. Bad enough that flour was almost impossible to buy for a time, when my 16 oz bag of S.A.F. Red label was close to it's end I either had to wait for resupply or go the sourdough route.
I watched hours of videos on YouTube and read post after post about how to start a culture. On June 23, 2020 I finally got it started.
The first day I recorded this in my bread log: It was suggested that I record my mood. Depressed as f#*k. Out of work for almost 3 months, worked 7 days and laid off again. Need to find both a job and place to live under threat of a re-lock down at any moment as Covid-19 cases spike in CA and LA in particular. So there, my mood is not the best but I'm trying to get by in a tough situation. I haven't been grocery shopping in 17 days and supplies are very thin. Thank goodness I have bread as my waistline continues to spread.
It was easier than expected however and it took me just 6 days to produce and maintain what I hoped was a viable starter.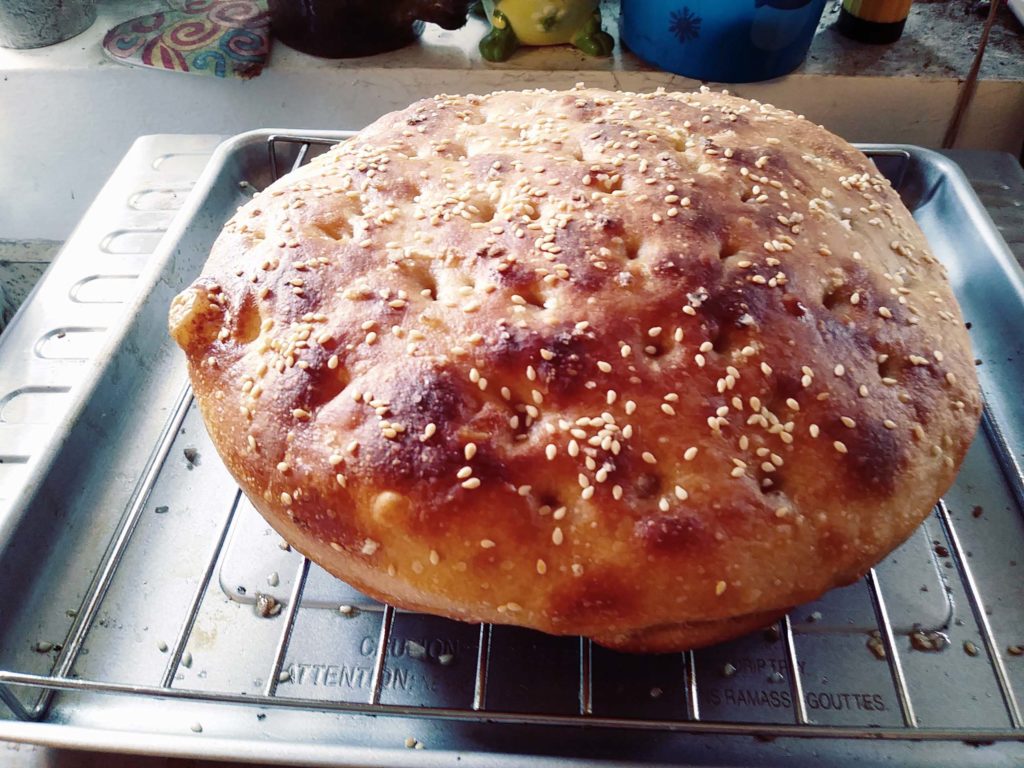 For my first bake I decided to adapt my tried and true easy overnight focaccia. It had been my main bread for some time. While the sandwich style loaf is popular for many reasons, I like something much more sturdy and with a higher crust to crumb ratio. I was also without a banneton and much more important, a dutch oven. The focaccia made sense. All my bread is baked in my trusty toaster oven. It is a good one and heats up the house much less than the gas box under my stove top. When one lives without air conditioning in Los Angeles, one is open to alternatives.
Back to the bread. I worked out the math to get the right amount of water including my starter. First I mixed my starter (about 20% of flour-baker's math) and water. With my bread flour running low, I used 25% AP flour, 25% White Whole Wheat, and 50% Bread flour, all King Arthur. 2% salt was added as well. After a good mix, the usual shaggy dough was left alone for a bit followed by 4 sets of stretch and folds until the windowpane test looked good. Into a tightly lidded container to bulk ferment and into the fridge for 13 hours. If you have not done this stuff, fear not, YouTube has you covered. I recommend FoodGeek Sune https://foodgeek.dk/en/ I must say that he is heavily sponsored and there are many people that might be offended by at least one of them. My blog is not political, I talk food.
The next morning, I removed the dough from the fridge and let it come to room temp for 2 hours. Into my 9 inch round USA pan then one stretch and fold plus several rest periods to pat it out to almost fill the pan. Covered with plastic wrap, it was then left for 6o minutes to pan rise. Dimple, top with olive oil, sesame seeds and sea salt and into the hot oven. It baked with the same temperature and time as my typical focaccia. It was a bit dark both top and bottom, an adjustment was necessary but the taste was good. I promptly ate half of the loaf.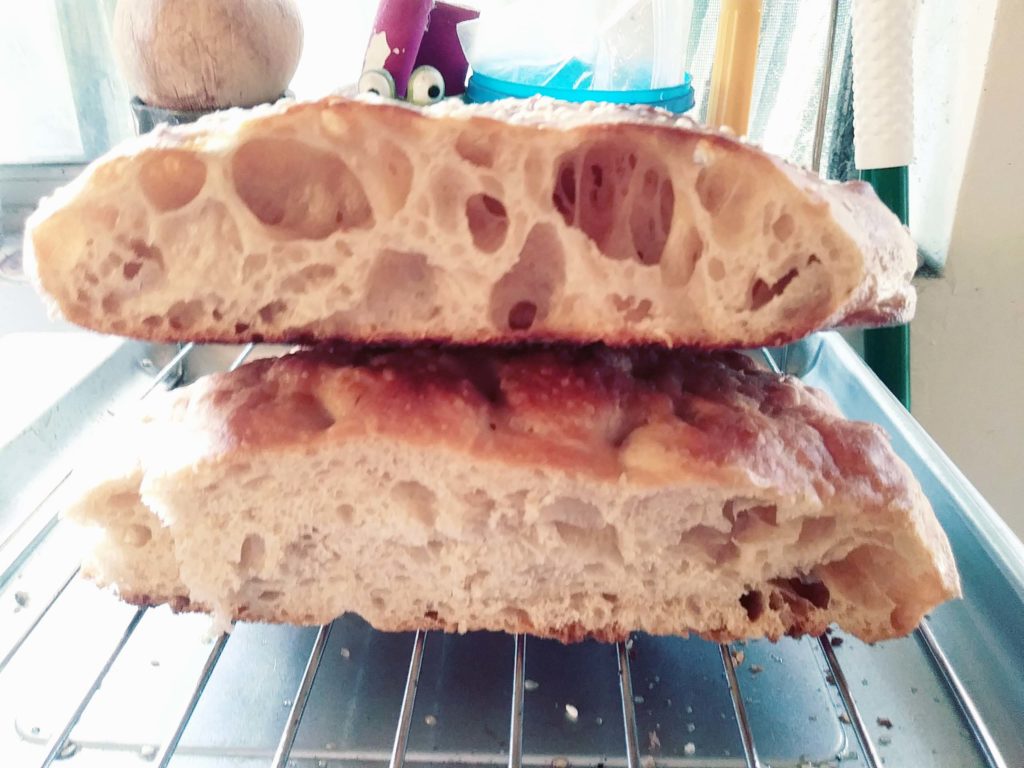 256 grams flour-65g White Whole Wheat, 65g AP, 126g Bread Flour
211 g water
50 g starter
5 g salt
Bake at 450° for 20 minutes but reduce temp to 425° after 10 minutes.
See above for method although this recipe has since been adjusted with more sourdough experience. Using the same basic recipe I have made boules (rounds), sandwich loaves, and even ciabatta.
This was my first sourdough bread, but I have made at least 25 bakes since. My waistline has continued to expand. More of the ongoing Saga to come.