It has Spinach so it is kind of Healthy
I have never baked fresh bread just to get stale or make croutons but today I did just that to make Strata. Strata means layers and this dish is more presentable made that way if you are looking to make an impression, but I usually just mix all of the fillings together to make it easier.
---
First, I made a loaf of sourdough semi flatbread that had been proofing overnight in the fridge. For this bake, I did not dimple the dough and did not oil the pan or top of the dough. Into the 8×8 USA pan, let rest at room temp for 30 minutes and into the 450° oven for 19 minutes. Definitely not a focaccia but a fine loaf to cut up into pieces for strata.
Once the bread was cooled on a rack, I cut it up into large cubes (probably too big) I let it sit on the counter for a few hours to dry out. You could use quite fresh, but the bread will not soak up the custard base as well. I have in the past used the oven to dry into almost crouton dryness, but not today since I had hours of time to kill.
In the interest of clarity, I did weigh the bread which came out to 375 grams or about 8 cups of loosely packed carbs. There was more, but of course I had to snack as I cut the loaf into pieces. Fresh baked bread has that effect on me.
Full disclosure, a few hours of looking at the large bread cubes on the sheet tray led to taking a knife and cutting each piece carefully in half. Then, because this is an 80% hydration bread, put the cubes into the oven for 15 minutes to dry out more completely. Yes, I am compulsive with my cooking but I'm OK. with that as are most who reap the rewards.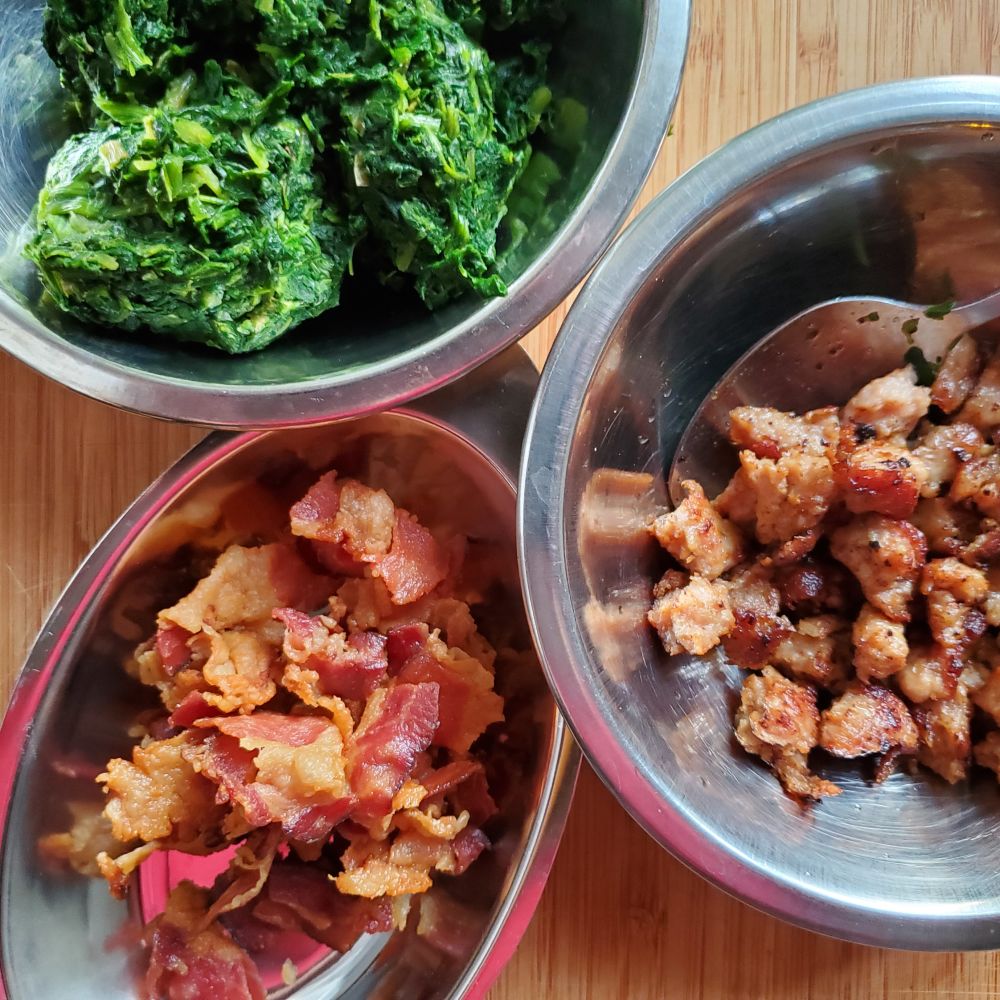 ---
While the time passed, I crisped about 4 ounces (113 grams) of bacon, let 300 grams of frozen spinach thaw, and pulled a Polish sausage out as well. It is precooked but the casing needs to be removed before quartering and cutting into pieces. Once room temp, the spinach needs a good squeeze. I used the reserved bacon drippings to brown 4 ounces (113 grams) of traditional pork breakfast sausage as well. This store brand has half the fat content of Farmer John sausage and does not release much fat on it's own. This is pretty meaty but I am using spinach to say I am trying to be balanced.
This dish requires no meat and is just fine with bread, eggs, some sort of veg and cheese but we like the meats around here. You can use ham or anything else you happen to have around to suit your taste.
---
Once the bread is sufficiently dry, I mix the eggs, milk, onions and spices in one bowl and everything else in another. The bread mix goes into a buttered 9 inch round USA pan and custard is poured over the top. I push down the bread to make sure it gets soaked through. Before I started assembly, I put the bread into the baking vessel to gauge volume but when push came to shove I did not quite get it all in.
The custard was not quite enough so I mixed another 2 eggs and ½ cup of milk. That was enough to get the job done. I have had this issue before with other baking vessels for this dish. The custard does not need to come to the top of the pan, but you should be able to press the bread down to soak it up or the top portion will be dry. This is why taking notes for your dishes is so helpful.
To get the best result, cover the dish and refrigerate overnight. It can be baked after at least an hour's soak but will be dryer. Letting the dish warm for an hour lessens the baking time, but I just put it into a cold oven and cook a bit longer. A 325° bake allows for a bit of extra volume. It will take 55-75 minutes depending on your oven and baking vessel. Add cheese layer on top in the last 10-15 minutes. Look for a set center and a thermometer will read 160°. Let cool at least 15 minutes before slicing so it can firm up a bit and avoid the scalding bite.
---
This is a perfect prepare ahead brunch since all you do is bake it off in the morning.
---
Make Ahead Meaty Cheesy Brunch Strata
Ingredients:
7-8 cups cubed bread 376 gms, 13 oz
8 large eggs
2.5 cups milk
300 grams frozen spinach
1 cup Mexican Manchego cheese shredded
1 cup Colby Jack shredded
4 oz breakfast sausage browned, 4 links or equivalent
4 oz bacon cut and browned, I cut a pound of bacon into quarters and freeze for storage. I did not try to figure out how may strips
1 polish sausage with casing removed, to ¼ coins
salt pepper
caramelized onions
crushed garlic
Method:
If you have 3 days to make this by all means make your chosen loaf. I like the puffy flatbread due to the ratio of crust to crumb. If on the other hand you are a normal human, just get a nice study loaf and cut it into ½ inch pieces. It needs to be dry. If it is already stale you may be good to go, if not you can put the pieces on a baking sheet in a 300° oven for 10-15 minutes. If you like, you can season the bread with good olive oil or melted butter and spices like you are making croutons.
It is a good idea to put your cut bread into the baking vessel you are going to use to check for volume. You should have room enough for your added meats and cheeses. This will puff up as it bakes.
Get the spinach from the freezer and into a bowl to thaw. This always takes longer that I would imagine. When it is thawed, squeeze out as much water as possible.
Prepare your meats. Crisp bacon and/or breakfast sausage. Ham or other pre-cooked meat can just be cut into pieces.
If you use caramelized onions like I do, you can use the reserved fat from the bacon/sausage to get it just the way you like it. If a more lightly cooked onion is preferred, do that.
Grate your cheese. I had several softer melty cheeses available plus some shredded Parmesan for the finish but it is not necessary. Use what you like and have around. If you like extra cheesy then use extra cheese.
Make your custard base with eggs and milk. I like to add the onions and spices in this step to get maximum dispersion.
Start assembly. If you want a traditions layered dish, start with a layer of bread, layer of meat, layer of cheese and repeat. If you are being lazy like me, just get a very large bowl (I had to retrieve one from my massive bowl storage) and mix all dry ingredients together. Fill baking vessel with bread, spinach, meat, cheese mix.
Pour custard base over mix and use spoon or hand to push bread into wet base. If you are short custard like I was just mix 2 more eggs and ½ cup of milk and pour over the top. Cover with cling film and refrigerate at least 1 hour or overnight.
Remove from fridge and put into a cold oven set to to 325° for 55-75 minutes. Ovens are fickle things. Dish is done when center is well set. Thermometer should read 160° If adding cheese on the top, do so at the end of bake for 5-10 minutes.
Let cool at least 15 minutes to let everything set then cut and serve. It is a well rounded dish on it's own, but I do like it with some sliced tomatoes and avocado. Good warm or cold the next day.
Notes:
You do not have to use home made bread for this but I bake it at least 3 times a week and usually have a batch of dough proofing in the fridge anyway. You can use any bread you like but for me it needs to be a hearty loaf of some kind. I'm partial to a well baked sourdough but choose what pleases. The typical supermarket loaf will not give your finished dish much texture but by all means use what you have.
Apologies for mixed weight and American standard but I did not bother to weigh the milk, cheese, bacon, or sausage. Use what you have.
Any mix of breakfast friendly meat options can be used or left out entirely. Spinach and cheese makes a good vegetarian strata. I personally have not found a good Vegan option for the eggs. I have seen recipes but the few I have tried were not right for me. Experiment to find your favorite taste.
Use any cheeses you like except American. It is too melty for this in my humble opinion. If you have some Parmesan or Asiago to sprinkle over the top it is a good thing. If you are not so cheesy just don't bother.
I bake covered for the first 40 minutes to allow more even baking. I have found that a slightly lower oven temp of 325° gives me a puffier result.
Strata can be made for a same day bake with at least an hour of soaking, but overnight works best.
---
Help me Grow by Following/Sharing on Social Media