Equipment reviews are not usually my thing, but I decided to give it a try with the new addition to my cooking equipment.
I really didn't need another pan but it called to me from the shelf at the discount store. The shape was unusual and it did fill a gap in my working collection.
---
The Calphalon Tri-Ply Stainless Steel cookware line has been my daily driver for a number of years. Over time, I have purchased almost everything they produced except the tiny 1 quart pan and that was because it didn't have a lid. One by one the discount stores gave up their bounty to fill my cabinets with good quality cookware at a nice price.
Calphalon Tri-Ply is not All Clad but more than good enough for the budget I've got to work with. The Tri-Ply line is medium weight, aluminum core sandwiched with Stainless Steel and has taken everything I have thrown at it. One outlier is a 1.5 quart Calphalon Contemporary. Having several pans of this size can be helpful even though it does not quite match.
Which brings me to my latest purchase, a Calphalon Premier™ Space Saving Stainless Steel 4.5 qt. Sauce Pan. It does little to save me space since I have no other pans in this line but the size is good to poach chicken or make a good pot of soup without hauling out the 6 quart stock pot. There exists the same size in the Tri-Ply line, but I have never seen one at the discounts I shop in.
It is tall for it's base size because of the design restraints imposed by having to stack with same base size brethren. My 2.5 quart saucepan has the same base diameter. Construction is a heavy weight stainless aluminum stainless sandwich throughout. The edge is not rolled which draws a slight ding imposed by the above mentioned restraints. The smaller base fits well on my home burner but would be too small for a commercial stove.
---
The lid is a piece of flat glass surrounded by a Stainless rim with tabs that nest onto the pot handle design. This means that it can only go on one way with the handle aligned to the handle of the pot. It does not present a major difficulty, but not as casual as typical lids which can be oriented any which way at all. It is a unique design.
---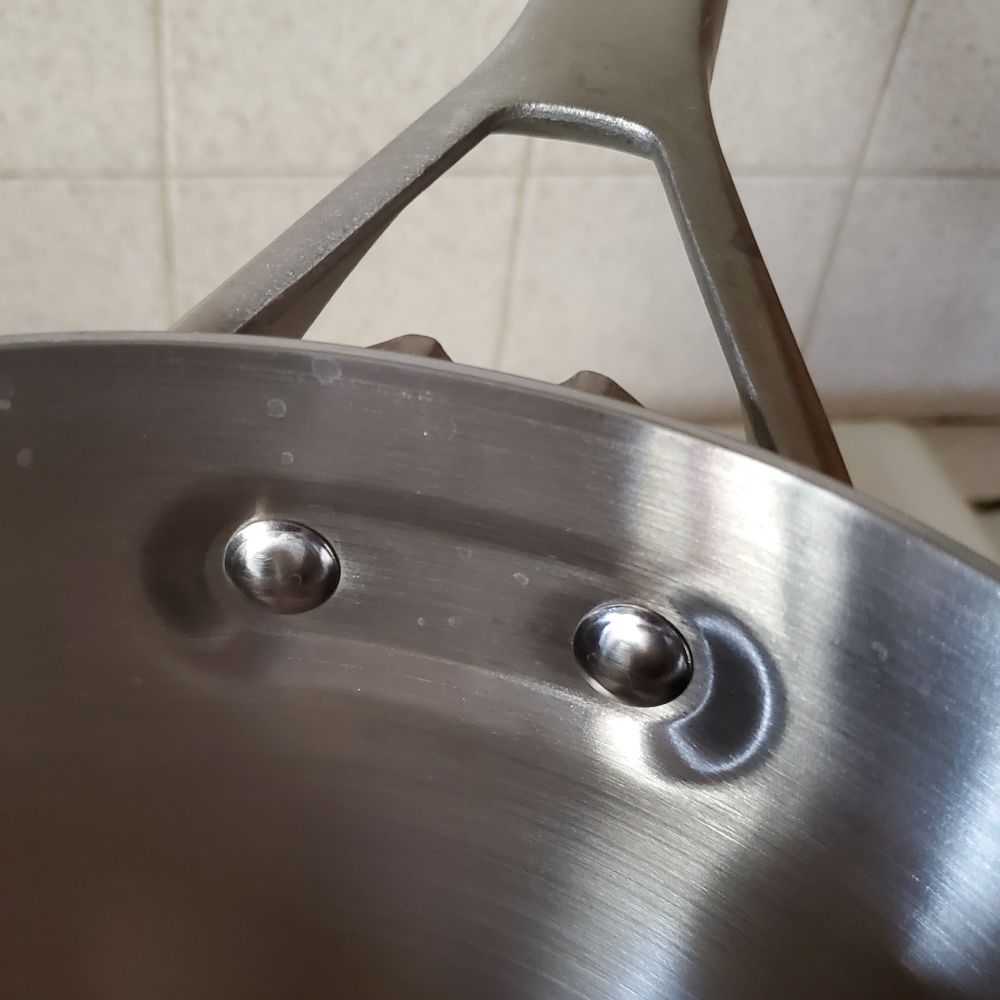 The pot is quite heavy and the helper handle is a necessity. Both handles are double riveted securely but quite large and thick with a notch on the top and mirror tab on the bottom for nesting. The inside of the pan has a depressions so the rivets do not protrude into the pan. I must assume this is also driven by the need to stack but can mean a bit more difficult cleaning.
The handles are made of Stainless Steel with the lid handle flat and pot handle a trapezoid. Oddly, the pot handle seems not so well finished as the rest of the piece. The geometry is not quite even and there are a few strange depressions which do not affect it's use. Perhaps it was a second. My Tri-Ply and Contemporary pieces have perfectly finished handles. Both lid handle and pot handle have cutouts close to the pot helping to keep them cool to the touch.
Both interior and exterior of the pot have a brushed finish which I like. Once a polished finish gets a few cleaning scratches you can never go back if that matters to you.
One odd thing I found is that this piece is not included in any of the sets available, it is only open stock although in the 15 piece set there is a soup pot that looks identical except it has only loop handles. I think it is the one in the exploded view above.
All in all a good buy at ½ retail. There was a slightly larger flat pan from the same line that threatened to jump into my cart as well, but I had a friend with who made sure it did not go home with me. Not all of the pans in the Premier Space Saving line are to my preference due to the design restrictions forcing odd geometries but this one deserves it's space in my cookware arsenal. It has already been pressed into use.
---
Help me grow by liking on Social Media