It has been years since the first headline shouting "Salsa Outsells Ketchup!" first appeared in American newspapers. Ranch Dressing outsells the sweet red stuff too by the way as does Mayonnaise. That being said, except for on an order of fast food fries, I rarely use Ketchup or even it's cousin Catsup. It is too sweet for my personal taste.
Salsa by comparison can be either mild or spicy but the stuff in the jar is not nearly as good as what I can make at home. It is also cheaper. Damn, I threw away that last grocery receipt so you will have to trust me. Keep reading and find out how to prepare Home Made Red Chile Tomato Salsa.
---
My salsa is usually dictated by what looks best when I shop. If there are nice red Fresno chiles, they are at the top of my list. Fresnos are a bit hotter than the Jalapeno but also have some fruitiness. A Habanero adds the serious heat, but Serrano or Thai Bird chile will do just fine. I often add a Poblano for its flavor, especially after a roast on the flame.
Tomatoes of course, this is a red salsa. Roma is preferred for it's meatier texture. A tomatillo or two is always added, I like it's acidic bite. A clove of garlic and just a slice of onion round out the plate.
Take the husk off of the tomatillos and give everything a good wash.
All of the veg except the Poblano go onto a tray and into a 400° oven for 15-20 minutes. A bit of char is just fine. If I am paying attention, I usually take out the tomatillo and garlic early but today I was distracted so they are very well roasted.
The Poblano goes onto the gas stove top until it is scorched black then wrapped in foil to steam before removing the charred skin and seeds.
Once cooled enough to handle, the tomatoes are skinned, the Fresnos and Habanero have the stem removed, and the tomatillos are used as is. All into the blender with the Poblano. Add salt and black pepper to taste plus a pinch of Smoked Paprika. Just a splash of apple cider vinegar or the juice of half a lemon for extra acidity.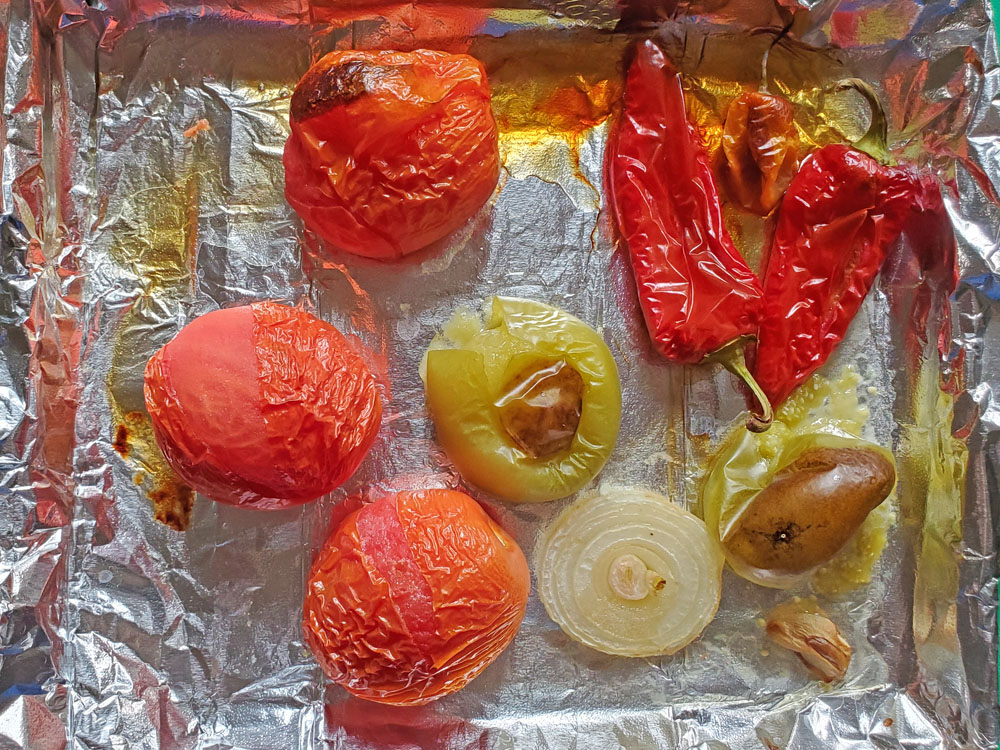 ---
O.K., this batch of chiles was a bit hotter than expected, so I just roasted the other two tomatoes I had and added them to the blender. My taste differs in terms of how hot I want things. I could be fine with this heat level on some days, but just not today. The added tomatoes gave me just the level of heat wanted. It's a bigger batch than I can eat quickly enough, but I'm going to see my friend Chuck tomorrow, I'll just take half to him.
This stuff goes on anything from tacos to potatoes. It tops eggs, beans or you can make Chilaquilles. Try making your own from what your local grocer has. It will be levels above the stuff in the jar.
Salsa like this is something that doesn't really need a recipe once you learn the basics. Find fresh tomatoes, if you like the acidity, add tomatillo, see what chiles are available, add as much raw or roasted onion as your taste enjoys. Don't like garlic? Leave it out. Habaneros too hot? Leave that out. It is not expected to be consistent. Perhaps next time I'll make the Salsa Negra. That one is a series of processes to be followed.
Home Made Red Chile Tomato Salsa
4-6 Roma Tomatoes
2 Fresno Chiles (or Jalapenos, Serrano, etc)
1 Poblano Pepper
1 Habanero if you like it hot
1 large or 2 small Tomatillo
1 clove garlic
Thick slice of Onion or more
Salt and Pepper
Pinch of Smoked Spanish Paprika
Glug of Apple Cider Vinegar or Juice of half a Lemon
Wash veg, peel garlic and onion, put all but Poblano on baking sheet and roast for 15-20 minutes at 400 °
Roast Poblano over gas flame until skin is fully blackened, wrap in foil to steam
After 15 minutes scrape skin from Poblano and remove stem and seeds
When roasted veg is cool, remove skin from Tomatoes and cut out the area where the stem is attached, skin can be left on the Tomatillos
Toss everything into the blender including any juices that have drained
Add salt, pepper, Smoked Paprika, and a glug of Cider Vinegar
Blend until it is as smooth or chunky as you like
Store in the fridge for up to a week or freeze for months
---
Please help me grow by sharing on social media.