and Onion rolls
Today's bake, ham hock logs and onion rolls.
You consider, you prepare, and still what happens happens. It is yours to deal with it as it is. Today is just such a case in point.
My plan was to make some cheese stuffed sourdough focaccia to illustrate a previously written piece so I could have images to post. That is not what happened. I had issues on several fronts. One was that Bluehost let me know that my site was not secure so it needed a security certification for https status. O.K., no problem. I did as suggested and the site went down. There was a recent back-up so I thought no big deal but again I was wrong.
When I did as instructed, I got an email that ended with "… From there you can now restore them to your live web directory if you'd like." This was a good thing except nowhere could I find how and where to do that. Anyway, all's well that ends well. After a number of hours it came down to a failure of the software they provided and the site is back up. There was some time spent fixing what disappeared but nothing too onerous.
Back to the bake then. First came the caramelized onions. Not a big deal, it is something I usually have in the fridge but being out, onions to chop and cook. With some ham hock stock still available, I finished the onions with that. It added a lovely flavor.
---
While the onions cooled, I pulled the dough from it's cold rest. The 500 gram batch was to give me 4 small cheese focaccia for the story plus a couple of rolls for sandwiches, etc. I grated some Colby Jack and aged Parmesan. With the time wasted on the site, I had missed morning chow and being hungry, things took a turn. Also in the fridge I found some pieces of ham hock meat still uneaten. I decided to use the hock meat and fill my empty belly.
The plan now was to make cheese, hock, and onion folded breads but in assembly, I left out the onion. It was on the other counter. Anyway, the cheese and meat were spread on the squarish flattened dough and rolled into a log. Into the square USA pan and left to rise. I took the other dough, split it into two and made a long rectangle which I spread with caramelized onion, plus fresh ground black pepper and rolled into a log. The log was rolled into a bun and onto a covered pie plate.
---
After the ham hock logs were done and a bit cooled, I finally had something to eat. Two of them were consumed with the others left for mates. As I write this, one of the onion buns went into my hungry maw. Ham hock fingers and Onion rolls. That's what I've eaten today.
---
The moral of the story is to be flexible and to work with what you've got in front of you. Be able to change course when it is necessary. Trust your palate and cooking knowledge. You will be rewarded.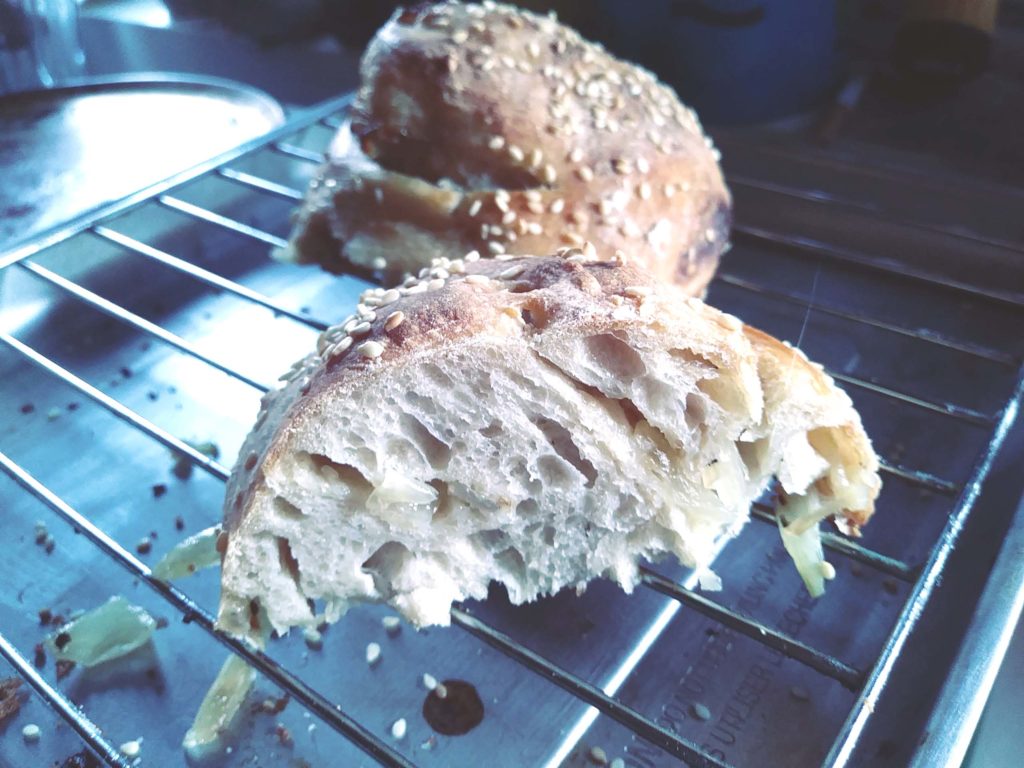 ---
Ham hock fingers and Onion rolls