So, I was on foot after being dropped off 2 blocks short of my house by Lyft. I asked if/how I could pay him to wait for a quick stop for a few necessities but the answer was just NO. The driver told me that the only recompense he would get was $0.12 per minute waiting and it was just not worth it. The offer of a cash tip did not change his mind so I had him drop me off and I would walk home. I did have a small backpack but it meant that it would be a light trip.
I got 3 ears of fresh sweet corn since Summer is almost over. Fresh corn in season is wonderful. I bought a package of Jenny O ground turkey since it was half off with the expiration date pending. It will be cooked today so not a problem. A few Fuji apples were added so I get my apple a day.
Deleted rant about no 5 lb bags of unbleached flour, this is about the turkey.
I do not love ground turkey. It is mostly too lean for my taste and except for ground pork if I am making potstickers or empanadas, ground meat is near the bottom of my protein procurement list. Today, it was on sale, in a smaller package, cooks fairly quick, and I could work with it.
The corn is fresh, I have green cabbage, canned tomatoes and coconut milk. There is Madras curry powder too, not very hot. Tonight's selection may as well be called Curried ground turkey with coconut milk, corn and cabbage. Tomorrow I can put some in focaccia dough with cheese and call it Calzone.
---
First I brown the turkey with chile flakes, salt, pepper, smoked Spanish Pakrika and Madras Curry Powder. I have packed my large skillets for an upcoming move so I had to do it in several batches in the 9 inch. In the freezer I found a piece of pork longaniza which I tossed in to brown as well. Once the 2nd batch of turkey was browned and slid into a large saucepan, I continued to brown the longaniza with the onions and garlic. I opened a can of coconut milk and drained half into the saucepan and added some leftover tomatillo sauce. The tomatoes were just a few spoonfuls but they go in as well. Trust me, this will work.
When the longaniza, onions, and garlic were ready, I deglazed the pan with just 2 or 3 tablespoons of water. Always deglaze your pan after browning meat. Flavor is in there. I let it reduce until close to dry and then into the saucepan as well. If you have rice ready to go, this could be served as is over that rice, but I'm not done.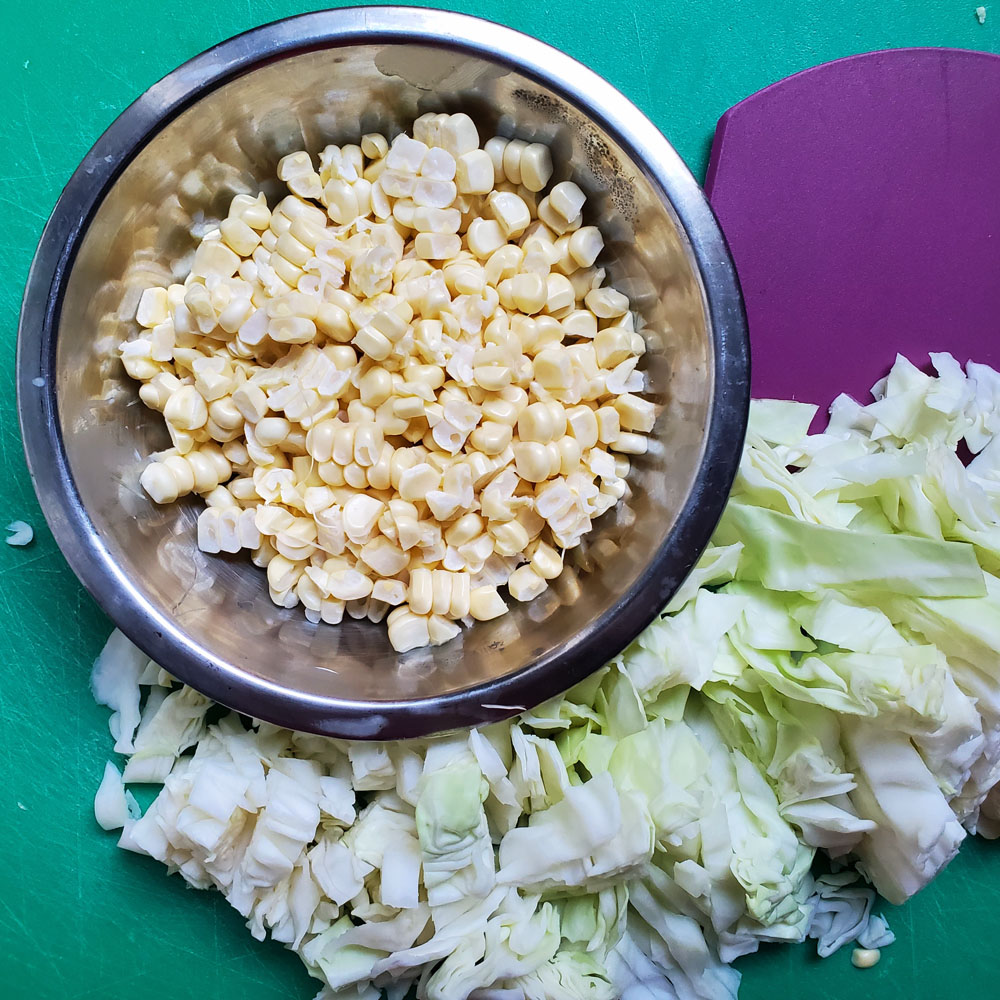 ---
I strip the kernels from one ear of fresh corn and chop 1/4 green cabbage. Not wanting to milk the cob, I tossed that into the simmering pot to get all the flavor available. The meat and sauce simmer very low for 30 minutes before I remove the cob, then add the corn and cabbage. Darn, too much cabbage so I only used half and added more coconut milk. One has to be able to adapt. The veg takes little time to cook and I want to retain the fresh taste and texture. 15 minutes at a low simmer and another ugly meal is ready to eat.
I really do make this up as I go along. It doesn't always work out, but if not, you will be informed. This worked out nicely.
Curried Ground Turkey with Coconut Milk, Corn and Cabbage
---
The point I am always making is that you can trust your palate. Dip a finger in this and then that. If it tastes good together, give it a try. If not, try something else. Be adventurous. A bad dish now and then is low payment for something that is surprisingly good even if it sounds odd.
Sometimes, forget the recipes and just cook.
---