It is the Sunday after Thanksgiving and there is pumpkin pie to be made, or at least set up to make in the morning.
On Thanksgiving day, I sent Fesenjan, focaccia, and pumpkin soup to Marie and Chuck. In return, I got braised lamb, smashed potatoes, sweet potatoes, and asparagus. All is gone except one cup of sweet potato for the pie. I am not sure just what spices went into the sweet potato dish, but it has a nice savory taste. It will provide a mystery element to the pie.
The pastry is always the place to start and I am trying a new method from Stella Parks of Serious Eats, https://www.seriouseats.com/recipes/2016/06/old-fashioned-flaky-pie-dough-recipe.html
---
Pie dough is not a strong point for me and I am trying to find a recipe that I can make work well. This recipe involves ½ inch cubes of cold butter simply smashed between finger and thumb before adding more water than I would expect, a quick knead, simple lamination (book fold plus one), and immediate roll out. The dough is put into a pie pan and chilled for 2 hours before the blind bake. I started in early afternoon and realized fairly quickly that this was probably not going to get baked today. The light leaves early this time of year and photography under incandescent light is not pretty.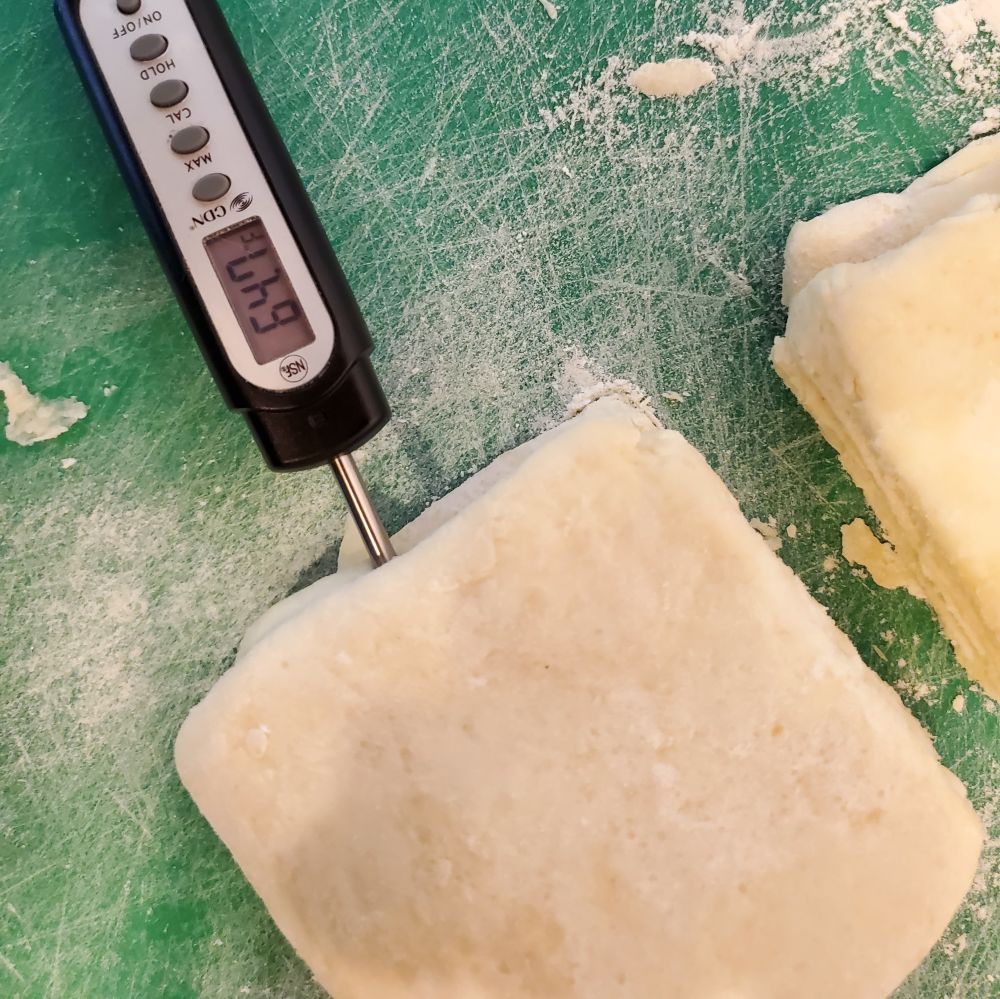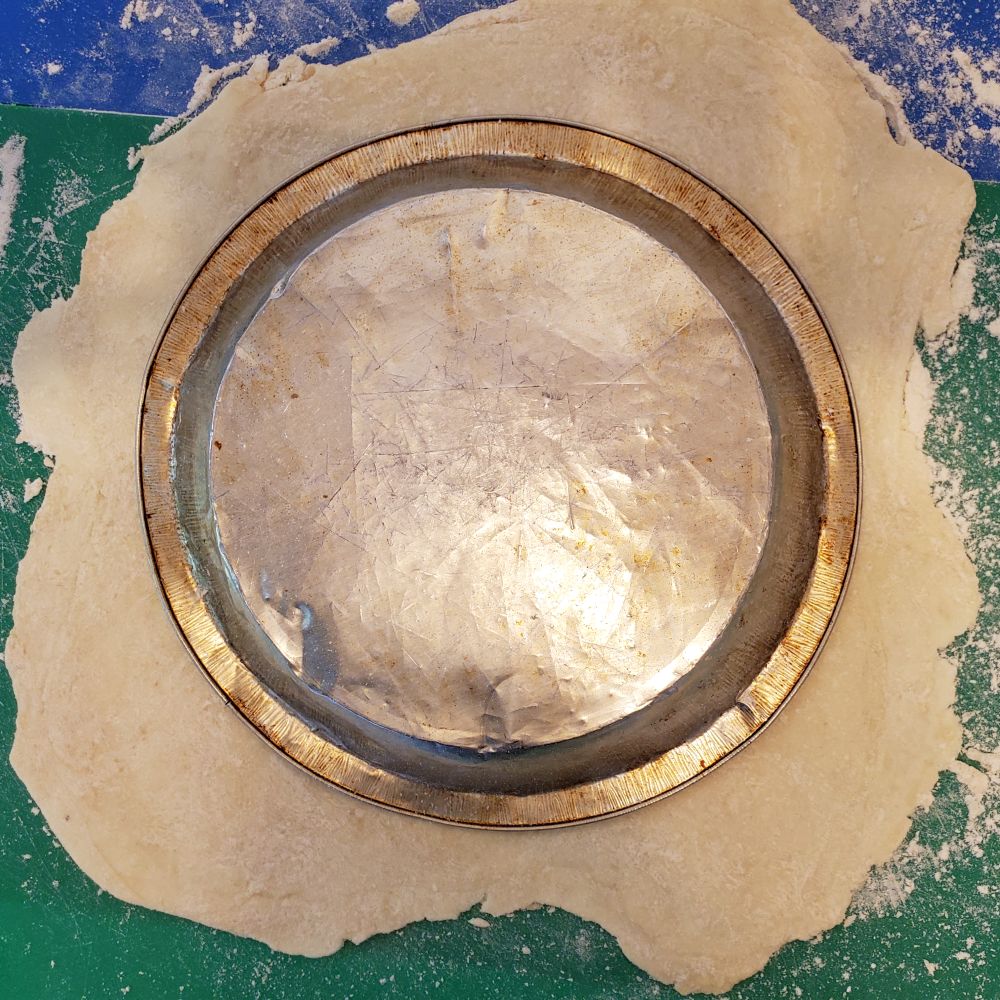 My pie edges are as usual atrocious, but it will just have to do. At least taping 2 thin cutting mats together gave me enough room to get it almost big enough. After the pie crust, in a thin aluminum pan went covered into the fridge, I started on the filling. Some years ago I found the recipe here and have been making my variations since. https://www.pumpkinpatchesandmore.org/homemadepumpkinpie.php
I had put aside 2 cups of cooked kabocha from the pumpkin soup. I like a rustic texture and did not process it at all. To this, I added 1 cup of Chuck's sweet potato, 4 eggs, brown sugar, cinnamon, fresh grated nutmeg and fresh ginger into the bowl. (it could have been a bigger bowl) I could not find my cloves, but I'm not too fond of clove anyway. For my dairy, I used one 12 oz can of condensed milk, 4 ounces of sweetened condensed milk from a previous project, and 2 oz of coconut cream left over from the pumpkin soup. As often, I just kind of winged it. The filling is then put into a cambro before it's cold rest.
A counter full of dirty dishes awaits me and then a break.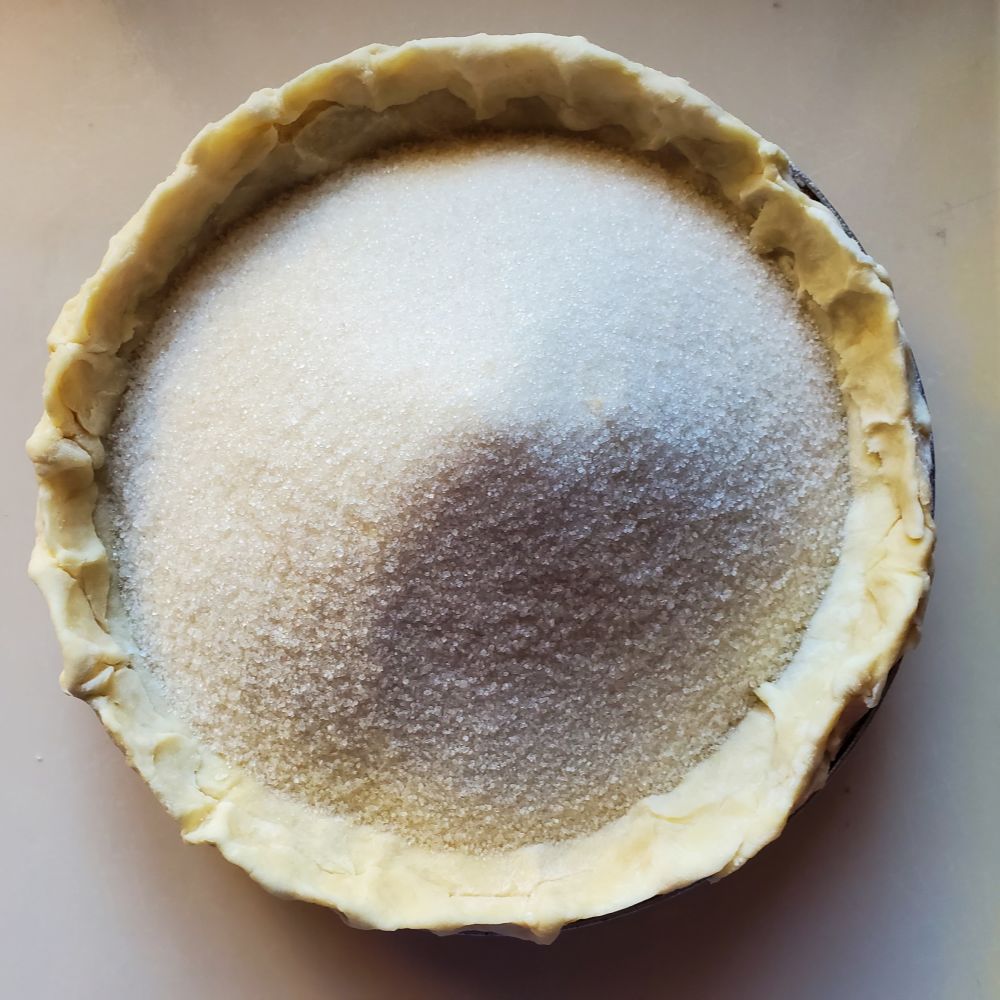 Next morning comes and a warning. Do not bake until you have had your normal portion of caffeine. I decided to try the Stella Parks recommendation to use white sugar instead of pie weights (I do not have) or garbanzo beans (my usual). Straight into the raw dough with 3+ cups of sugar and admiring the mountain of sweetness until the realization that it needed to be lined. So, pour sugar out of the pie crust and the inevitable sugar on the counter trick. Line with foil and consider the layer of sugar that I am baking into my crust. Sugar mountain back into the foil then into the waiting oven.
As I blind bake my crust, some thoughts on pie pans. I have them all. A lovely deep blue Baker glazed ceramic deep dish, a La Crueset in gleaming white, a large Pyrex, and even an unglazed terra cotta from The Pampered Chef.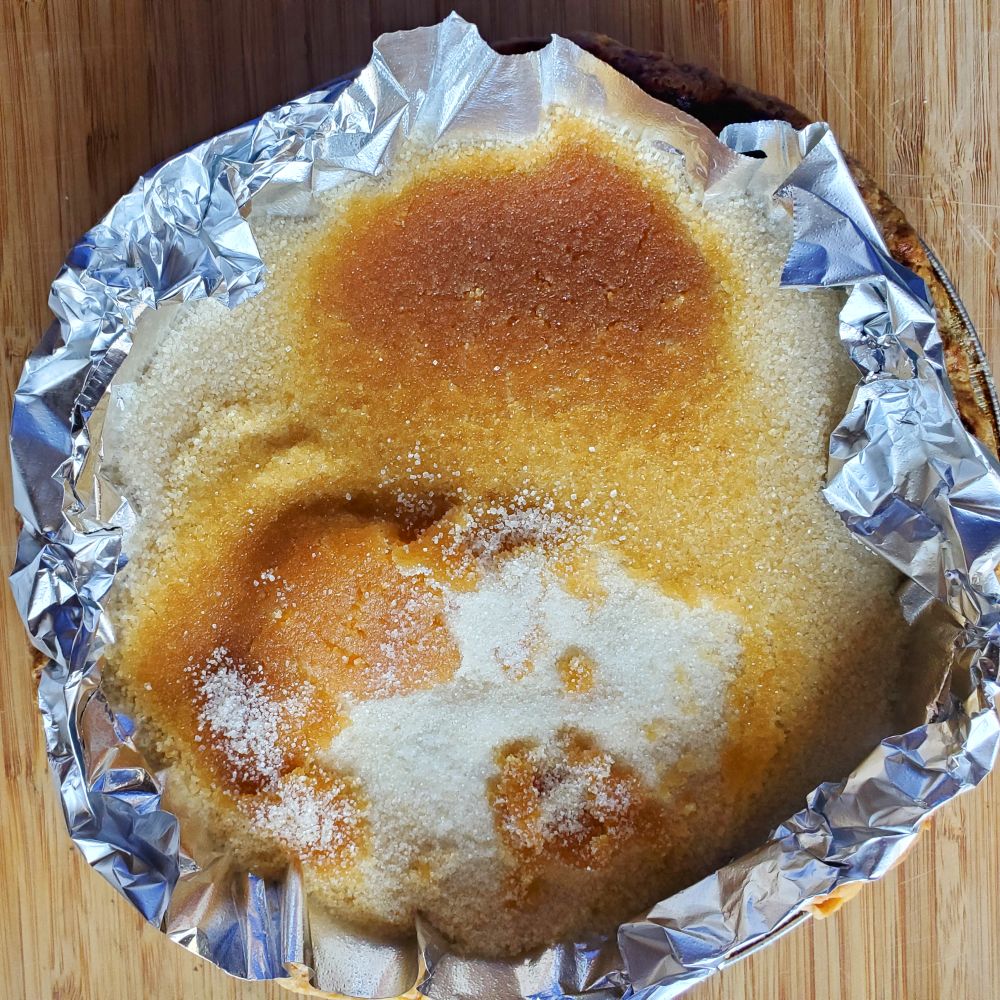 The terra cotta was a recent gift and untested for pie but the rest have all given me other than the crust I have been looking for. I decided to try the cheap aluminum pan I use in the kitchen for almost everything but pie. Various sites claim that each pan makes the best pie crust so I decided to give the nod to a fast heating thin metal item to see how it goes. 350° and 55 minutes. A check 20 minutes in show my edge skills have not improved. Slumping has occurred. So many other things I do well but the perfect pie crust is still just not there for me.
After 55 minutes, I remove the sugar with it's brown crusted sugar top. Back into the oven for 5 minutes gives me not quite done or over done. This my usual result.
I have the other piece of dough in the cold. Perhaps I will make a galette. It is a form that works with my skill set. I have some Granny Smith apples and I have been considering a sweet potato apple pairing that is the current rage.
I tried to make a pie crust shield with foil but I'm no good at that either. I love pie but oh do I wish I could make it look as good as it tastes.
I use a ladle to fill the pie crust after a 10 minute cool down and into the hot oven to bake.
---
After 15 minutes at 425°, I turned the oven down to 350° for another 45 min making a round hour. Crust above rim was of course over done with a few actual burn spots where filling splashed. Shield did nominal good. Filling was as expected very nice with a strong ginger presence. Not too sweet because I only used ½ of the sugar called for. The crust was actually flaky but for the first time actually too thin to puff up well. I did not cut the dough evenly and was working with the smaller piece. The coating of sugar on the crust was apparent as a crispy layer under the pudding which I quite liked. Overall about 7/10.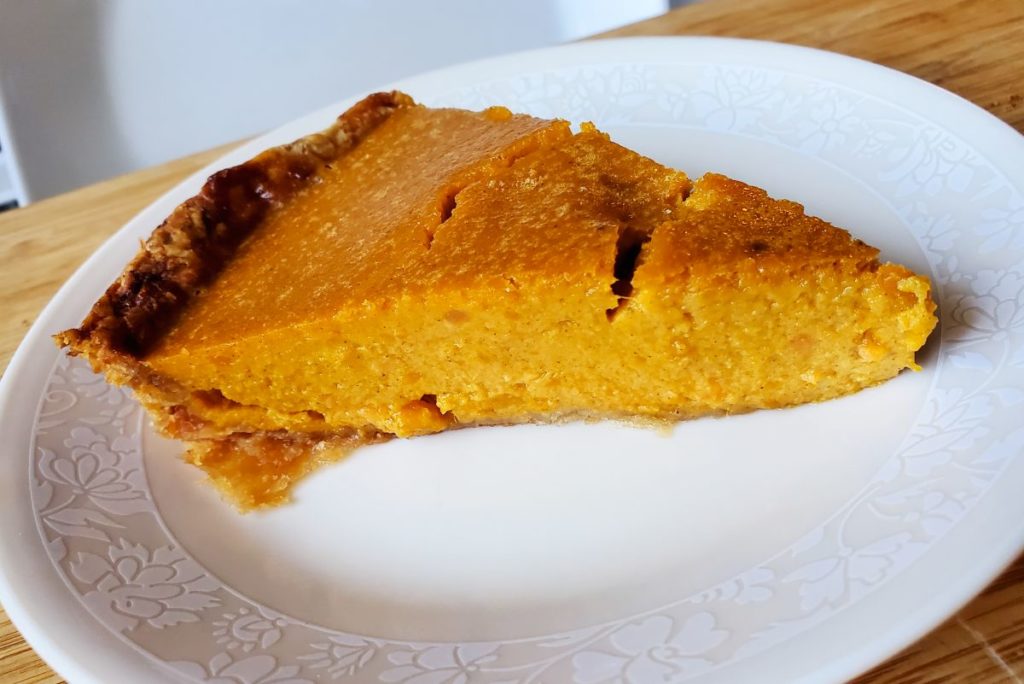 ---
Still waiting for Marie and Chuck's pie review but the Thanksgiving Fesenjan was a hit.
Better Pumpkin Pie with Sweet Potato
Ingredients:
2 cups cooked kabocha squash
1 cup cooked sweet potato
½ cup brown sugar
1 ½ tsp ground cinnamon
fresh grated nutmeg to taste
fresh grated ginger to taste
1/2 tsp salt
1 tsp vanilla extract
4 large eggs
1 12oz can condensed milk
6 oz sweetened condensed milk (I used 4 oz scm and 2 oz coconut cream)
The dairy portion is very flexible. I have used half milk half cream, condensed milk and cream, even included some labne on occasion. The set of your custard will vary. Try things and see what works for you.
Method:
Make your favorite pie dough or try Stella Parks recipe
Roll your dough larger than your pie pan by at least an inch
Chill dough in the fridge for at least an hour or overnight
Line dough with foil and weight use pie weights, garbanzo beans, rice, or sugar
Blind bake shell according to what works for me, this time it was 60 minutes at 350°
While shell is cooling make your custard filling
I covered the kabocha in my pumpkin soup episode.The sweet potato can be cooked by steaming or even baking as long as you have 3 cups of orange colored stuff, O.K. not stuff but the flesh of your squash and tuber. I like a rougher texture so it is little processed.
Add eggs, condensed milk, sweetened condensed milk, sugar, and spices and mix well. A large whisk does it for me. If you like a very smooth custard, you can use a jar blender, stick blender or food processor to get there.
When pie shell is done, let it cool for 5 or 10 minutes and fill to the brim with custard. A ladle works well here
Bake in preheated 425° oven on sheet tray for 15 minutes. Turn down oven to 350° for another 45-50 minutes until center is set and inserted knife comes out clean. Let pie cool 45-60 minutes before trying to slice.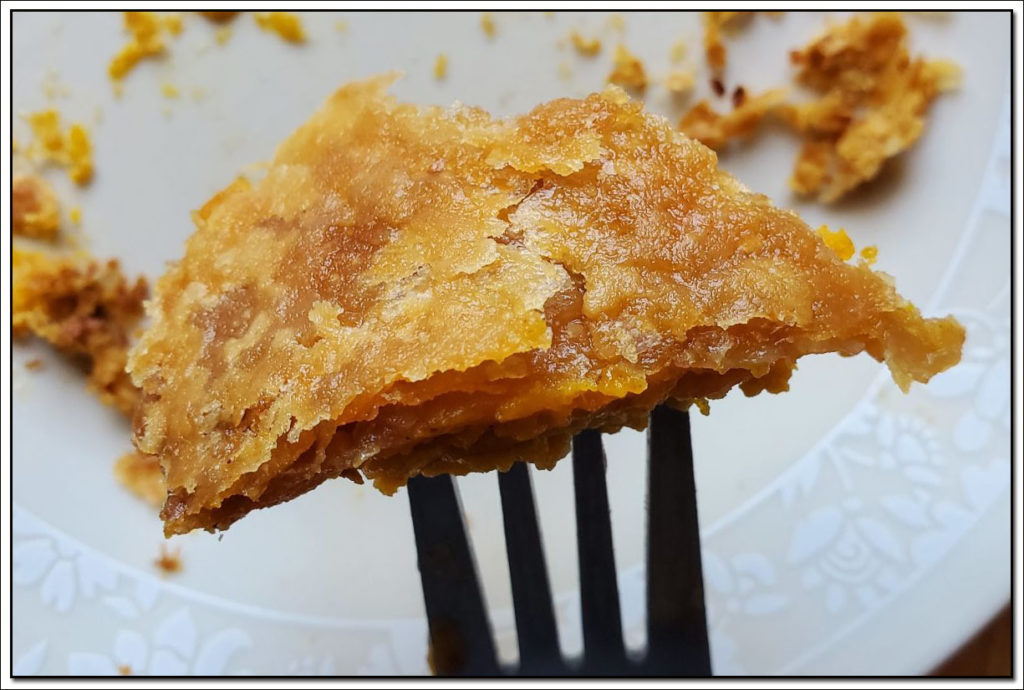 ---